The Goldilocks Mastectomy was developed by Dr. Grace Ma and Dr. Heather Richardson to give women facing mastectomy surgery an option that takes the best features of having and not having reconstruction and combining them into a single procedure. While not every patient is suited for a Goldilocks mastectomy, for the women who decide to make it their treatment of choice, it is just right.
Advantages to Goldilocks Mastectomy are:
Can be performed on one or both breasts
Can be performed for prophylaxis or treatment of disease
No additional surgeries are required
No implants or artificial devices are used
Decreased pain and shorter recovery time when compared to formal breast reconstruction
Surgical removal of breast gland under the skin means:

No screening mammograms required
Most patients do not require radiation*

Excellent option for patients who don't want reconstruction or are otherwise poor surgical candidates for formal reconstruction
Patients with extremely large breasts or sagging breasts have the best outcome from this procedure; patients with extremely small breasts may not be candidates at all
*depends on patient's breast cancer status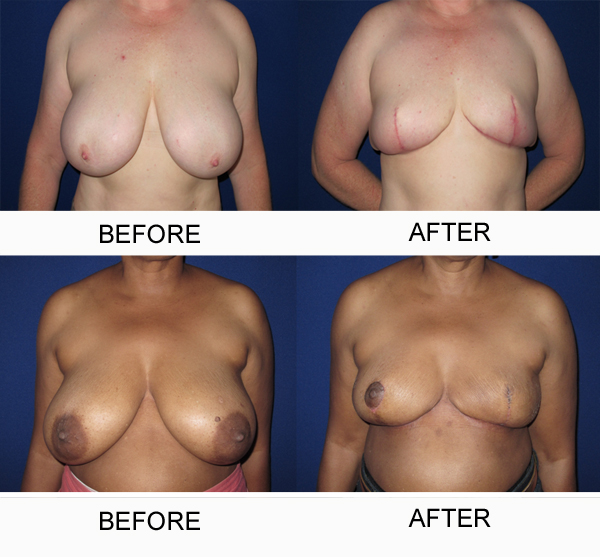 If you think that this procedure might be a good fit for you or someone you love who is considering mastectomy surgery, please contact us for more information about this novel procedure.
Breast Oncology/ General Surgeon
Heather Richardson, MD, FACS
Breast Cancer Surgeon
Beverly Hills, CA
www.BedfordBreastCenter.com
310-278-8590
Plastic and Reconstructive Surgeon
Grace Ma, MD FACS
Atlanta, Georgia
www.peachtreeplasticsurgery.com
Click here to download additional information and answers to frequently asked questions.
This technique was recently presented in Nottingham, England.  Click here (86mb) to view the presentation.